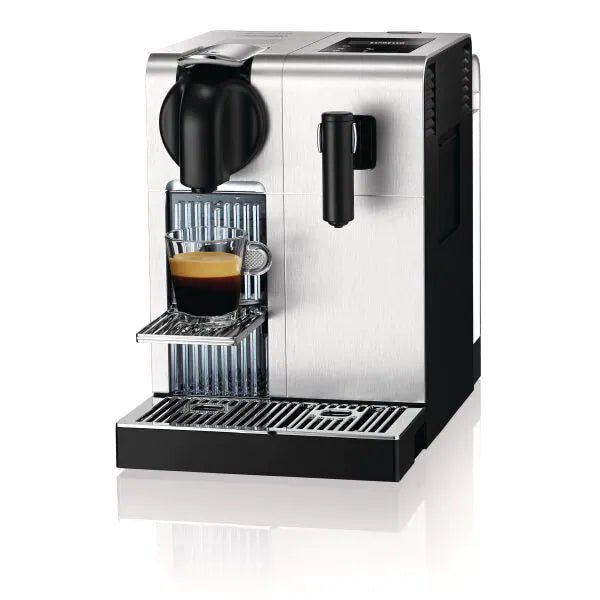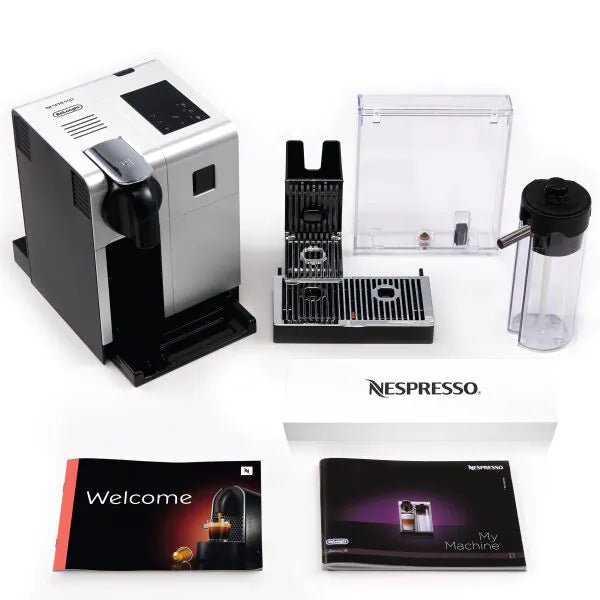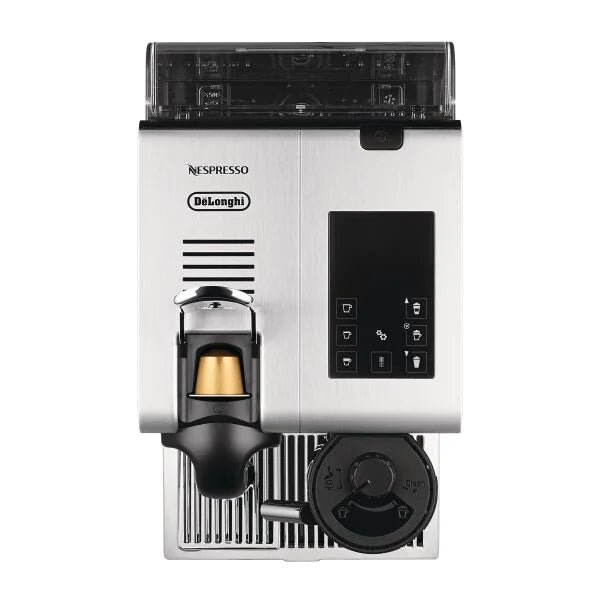 Product Type:
Coffee Machines
FREE
SHIPPING
100% MONEY
BACK GUARANTEE
ONLINE
SUPPORT
Intuitive touchscreen LCD Display with clear text guidance for intuitive use.
Delicious beverages at the touch of a button.
Optimal milk froth quality advanced steamer technology.
10 oz. milk container storable in the fridge.
Auto clean system assessed by International Certification Body.
Milk system components are dishwashable.
SPECIFICATIONS
Used capsules container capacity: 13
Dimensions (WxHxD): 19.4 x 33.2 x 37.4 cm
Folding drip tray for Latte Macchiato glass
Compact size: efficient design with compact technology
Ristretto, Espresso, Lungo, one-touch Cappuccino and Latte Macchiato
Digital multi-language display
Pre-programmed choice of languages on a digital display
Overall Design

The Lattissima Pro has a professional-looking silver and black design. It's somewhat blocky, and at 12.6 pounds, it's heavier than many home espresso machines. Still, it's a high-end model that feels expensive and durable. Plus, the touchscreen is well-placed and intuitive.

The milk frother is very easy to access in the front, while the water reservoir is relegated to the back. Of course, this espresso maker offers plenty of alerts, so being able to see the tank isn't strictly necessary.

Price

Here's the bad news: Nespresso's Lattissima Pro is pretty pricey. This is a high-end espresso maker, so all of these nice features and good build quality come at a price. If you have the budget, though, you'll be rewarded with some pretty amazing espresso. And don't forget all the money you can save by skipping the coffee shop!

Settings

The Lattissima Pro offers more control over your brew than many of Nespresso's machines. It features an intuitive touchscreen, through which you can select a drink type and access the settings menu. Among the settings, you'll find options to set the water hardness, empty the fluids, check on the machine's maintenance, and reprogram drink volumes.

We did find that the touchscreen could be overly sensitive, activating at the slightest brush. Navigating the menu is also a bit harder than Nespresso's more minimal two-button models, though you probably won't need to consult the user manual.

This model can brew ristretto, espresso, and lungo shots, along with milk-based drinks like lattes and cappuccinos. The seven-button screen also includes hot water and warm milk options so you can easily make tea or have a soothing cup of milk.

Coffee Quality

When it comes to flavor, we were impressed. This Nespresso machine produces delicious, complex shots of espresso — topped, of course, with distinctive, velvety crema.

This model works with all of Nespresso's Original capsules, giving you quite a few tasty options. Keep in mind that Nespresso's capsules aren't cheap, though you can sign up for convenient regular delivery. Not sure where to start? Take a look at our reviews of the five best varieties!

Extra Features

This high-end model offers quite a few extra features, from milk frothers to automatic cleaning cycles.

The built-in milk frother produces beautiful, silky foam that pours directly into your cup. The 16-ounce milk reservoir is easy to remove for refrigeration, and you can adjust the frother using an intuitive dial. Best of all, there's a cleaning function that will rinse the frother for you.

Nespresso also offers a recycling program for its coffee capsules. You can order a free recycling bag, fill it with used capsules, and ship it back. The company will recycle your capsules for you!

Cleaning

Cleaning is one area where the Lattissima Pro excels. You can test your water hardness using an included sticker and then input it into the machine. Based on your water hardness, your Lattissima will alert you when it's time to descale. Conveniently, there's an automatic descaling cycle that's easily accessible through the touchscreen.

Keep in mind that Nespresso recommends only using its descaling solution — not vinegar or any other brand.

Milk frothers are notoriously difficult to clean, but this one is the exception. If you turn the knob to clean, the machine will automatically rinse the spout with hot water. The result? Hands-free cleaning! Plus, the milk reservoir and frother are dishwasher-safe.
Shipping Policy
Thank you for visiting and shopping at www.globalgadgets.co.in. The following are the terms and conditions that constitute our Shipping Policy.
Domestic Shipping Policy
Shipment processing time
All orders are processed within 3-10 business days. Orders are not shipped or delivered on weekends or holidays.
If we are experiencing a high volume of orders, shipments may be delayed by a few days. Please allow additional days in transit for delivery. If there will be a significant delay in shipment of your order, we will contact you via email or telephone.
Shipping rates & delivery estimates
Shipping is free for all orders.
Shipment to P.O. boxes or APO/FPO addresses
www.globalgadgets.co.in ships to addresses pan India.
Shipment confirmation & Order tracking
You will receive a Shipment Confirmation email once your order has shipped.
Customs, Duties and Taxes
www.globalgadgets.co.in is not responsible for any customs and taxes applied to your order. All fees imposed during or after shipping are the responsibility of the customer (tariffs, taxes, etc.).
Damages
www.globalgadgets.co.in is not liable for any products damaged or lost during shipping. If you received your order damaged, please contact the shipment carrier to file a claim.
Please save all packaging materials and damaged goods before filing a claim.
International Shipping Policy
We currently do not ship outside India
Returns Policy
Our Return & Refund Policy provides detailed information about options and procedures for returning your order.