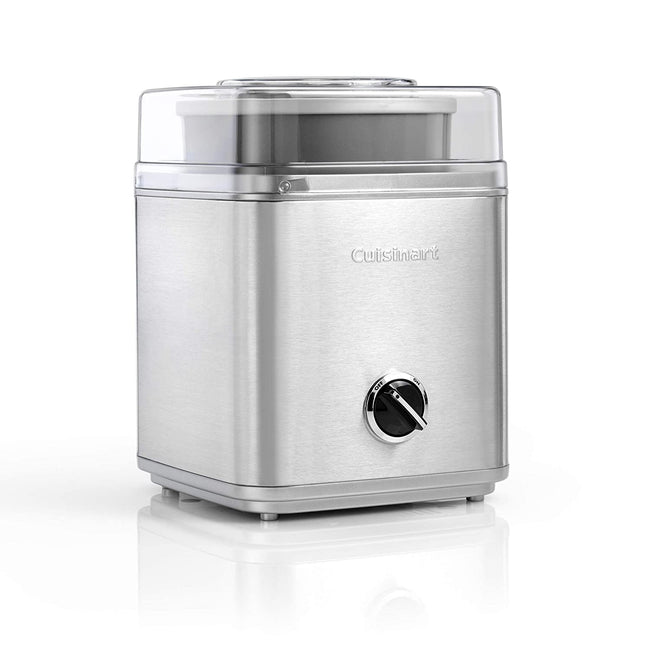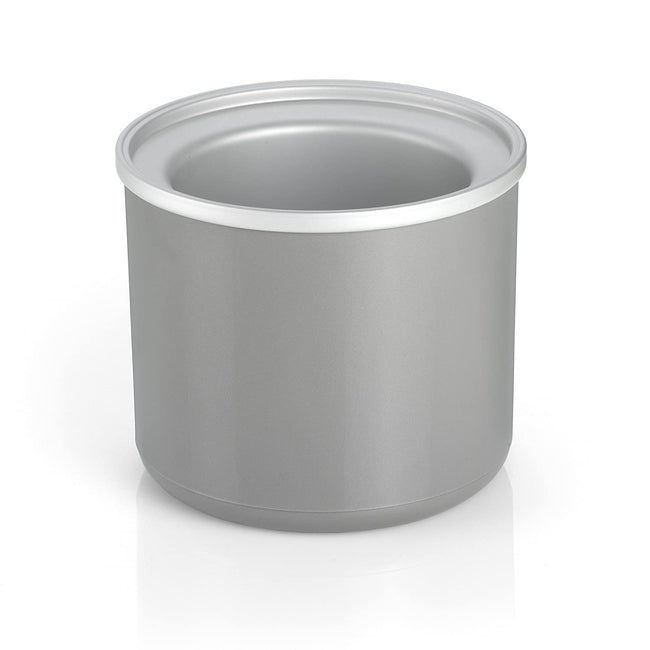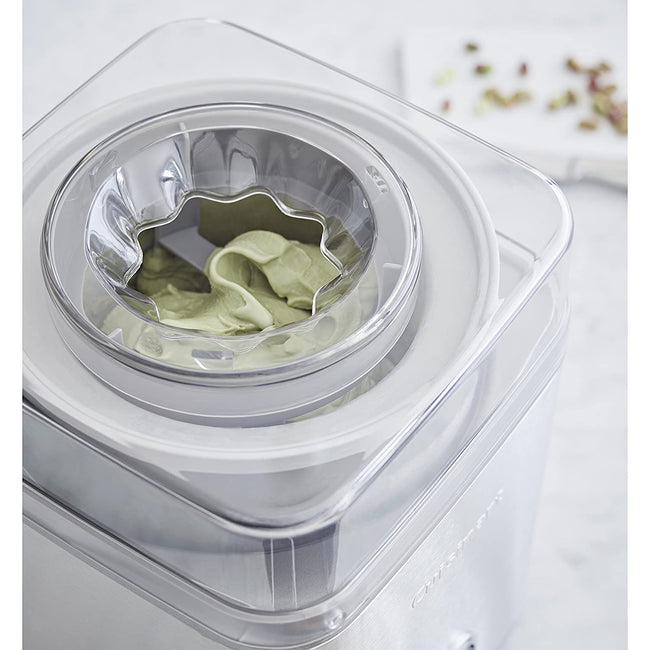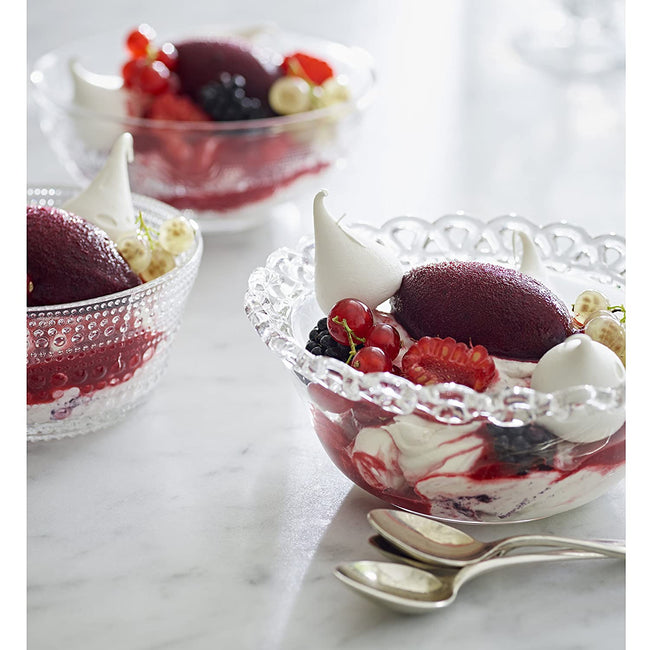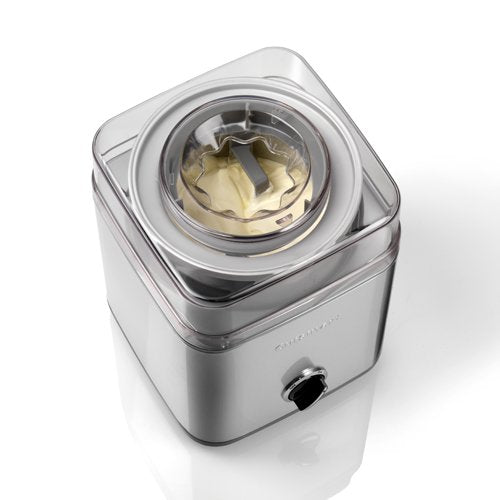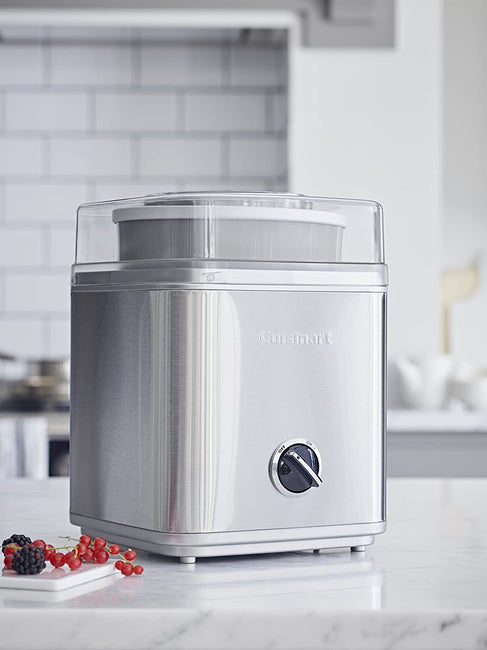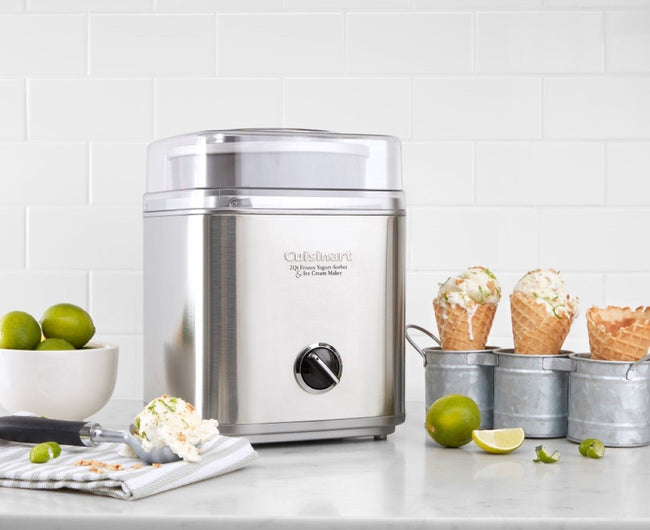 Product Type:
Ice cream machine
FREE
SHIPPING
100% MONEY
BACK GUARANTEE
ONLINE
SUPPORT
What's better than one quart of luscious homemade ice cream, sorbet, or frozen yogurt? Two quarts! The fully automatic Cuisinart® Pure Indulgence™ makes 2 quarts of your favorite frozen desserts or drinks in as little as 25 minutes. It's easy - an integrated motor, double-insulated freezer bowl, and automatic mixing paddle do all the work. Results are consistently smooth, cleanup is easy, and the brushed metal styling is simply sensational.
Double insulated freezer bowl holds up to 2 quarts of frozen dessert
Brushed metal housing with embossed logo
Fully automatic heavy-duty motor makes frozen desserts or drinks in as little as 20 minutes
Large ingredient spout for adding mix-ins
Instruction/Recipe book
Limited 3-year warranty
BPA Free
FREEZING TIME AND BOWL PREPARATION
The freezer bowl must be completely frozen before you begin your recipe. The length of time needed to reach the frozen state depends on how cold your freezer is. For the most convenient frozen desserts and drinks, leave your freezer bowl in the freezer at all times. You can take it out at any time for immediate use. In general, freezing time is between 6 hours and 22 hours. To determine whether the bowl is completely frozen, shake it. If you do not hear the liquid moving, the cooling liquid is frozen. Before freezing, wash and dry the bowl. Wrap it in a plastic bag to prevent freezer burn. We recommend that you place the freezer bowl in the back of your freezer where it is coldest. Reminder: Your freezer should be set to 0°F to ensure proper freezing of all foods.
MAKING FROZEN DESSERTS OR DRINKS
1. Use Cuisinart's recipes from the pages that follow, or use your own recipe, making sure it yields 2 quarts or less. Do not fill the freezer bowl higher than 1 ⁄2" from the top. The ingredients will increase in volume during the freezing process. For best results, prepare ingredients in a container from which it is easy to pour.
2. Remove the freezer bowl from the freezer. (Remove plastic bag if you have wrapped freezer bowl.) Place the freezer bowl in the center of the base. NOTE: Bowl will begin to defrost quickly once it has been removed from the freezer. Use it immediately after removing it from the freezer.
3. Place mixing arm in freezer bowl. The arm does not fit tightly. It just rests in the center of the bowl, with the circle side facing up. 4. Place the lid on the base. Easy-lock lid mechanism allows the lid to rest on the base in multiple positions (see diagram).
IMPORTANT SAFEGUARDS
When using an electrical appliance, basic safety precautions should always be followed to reduce the risk of fire, electric shock, and/or injury, including the following:
1. READ ALL INSTRUCTIONS BEFORE USING.
2. To protect against the risk of electric shock, do not place the cord, plug, or base of the appliance in water or any other liquid.
3. Close supervision is necessary when any appliance is used by or near children.
4. Always unplug from the outlet when not in use, before putting on or taking off parts, and before cleaning.
5. Avoid contact with moving parts. Keep hands, hair, clothing, as well as spatulas and other utensils away during operation to reduce the risk of injury and/or damage to the appliance.
6. Do not operate any appliance with a damaged cord or plug, or after the appliance malfunctions, or is dropped or damaged in any manner. Return the appliance to the nearest Cuisinart Repair Center for examination, repair, and electrical or mechanical adjustment.
7. The use of attachments not recommended by Cuisinart may cause fire, electric shock, or risk of injuries.
8. Do not use outdoors.
9. Do not let the cord hang over the edge of the table or counter, or touch hot surfaces.
10. Keep hands and utensils out of the freezer bowl while in use to reduce the risk of injury to persons or to the appliance itself.
DO NOT USE SHARP OBJECTS OR UTENSILS INSIDE THE FREEZER BOWL!
Sharp objects will scratch and damage the inside of the freezer bowl. A rubber spatula or wooden spoon may be used when the appliance is in the OFF position.
11. This appliance is for household use. Any servicing other than cleaning and user maintenance should be done only by authorized Cuisinart Repair Personnel.
12. Do not use the freezer bowl on flames, hot plates, or stoves. Do not expose to heat source. Do not wash in the dishwasher; doing so may cause a risk of fire, electric shock, or injury.
ADDING INGREDIENTS
Ingredients such as chips and nuts should be added about 5 minutes before the recipe is complete. Once the dessert or drink has begun to thicken, add the ingredients through the ingredient spout. Nuts and other ingredients should be no larger than a chocolate chip.
SAFETY FEATURE
The Cuisinart Pure Indulgence Frozen Yogurt–Ice Cream & Sorbet Maker is equipped with a safety feature that automatically stops the unit if the motor overheats. This may occur if the dessert or drink is extremely thick, if the unit has been running for an excessively long period of time, or if added ingredients (nuts, etc.) are in extremely large pieces. To reset the unit, turn the ON/OFF switch to the OFF position. Let the unit cool off. After a few minutes, you may turn the unit on again and continue making the dessert or drink.
CLEANING AND STORAGE
Cleaning Clean the freezer bowl, mixing arm, and lid in warm soapy water. DO NOT PUT THE FREEZER BOWL IN THE DISHWASHER. DO NOT CLEAN WITH ABRASIVE CLEANSERS OR IMPLEMENTS. Wipe the motor base clean with a damp cloth. Dry all parts thoroughly. Storage
DO NOT put the freezer bowl in the freezer if the bowl is wet. DO NOT store the lid, mixing arm, or base in the freezer. You may store the freezer bowl in the freezer for convenient, immediate use. Before freezing, wrap the bowl in a plastic bag to prevent freezer burn. Do not store frozen desserts or drinks in the freezer bowl in the freezer for more than 30 minutes at a time. Transfer frozen desserts or drinks to an airtight container for longer storage in the freezer.
Shipping Policy
Thank you for visiting and shopping at www.globalgadgets.co.in. The following are the terms and conditions that constitute our Shipping Policy.
Domestic Shipping Policy
Shipment processing time
All orders are processed within 3-10 business days. Orders are not shipped or delivered on weekends or holidays.
If we are experiencing a high volume of orders, shipments may be delayed by a few days. Please allow additional days in transit for delivery. If there will be a significant delay in shipment of your order, we will contact you via email or telephone.
Shipping rates & delivery estimates
Shipping is free for all orders.
Shipment to P.O. boxes or APO/FPO addresses
www.globalgadgets.co.in ships to addresses pan India.
Shipment confirmation & Order tracking
You will receive a Shipment Confirmation email once your order has shipped.
Customs, Duties and Taxes
www.globalgadgets.co.in is not responsible for any customs and taxes applied to your order. All fees imposed during or after shipping are the responsibility of the customer (tariffs, taxes, etc.).
Damages
www.globalgadgets.co.in is not liable for any products damaged or lost during shipping. If you received your order damaged, please contact the shipment carrier to file a claim.
Please save all packaging materials and damaged goods before filing a claim.
International Shipping Policy
We currently do not ship outside India
Returns Policy
Our Return & Refund Policy provides detailed information about options and procedures for returning your order.